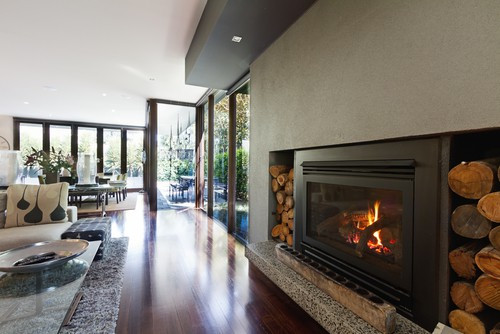 Heating accounts for about 55% of what you spend in a year on energy bills, so an efficient boiler makes a big difference.
Modern boilers are more efficient for several reasons, but their main advantage is that they are all condensing boilers. All well-maintained boilers burn their fuel very efficiently, but they inevitably lose some heat in the hot gases that escape up the flue. A Condensing boiler has a larger heat exchanger, so it recovers more heat, sends cooler gases up the flue and is more efficient.
What should I consider when replacing my boiler?
If it is time to change your boiler, you need to decide what type of boiler is right for you. Here are some things to consider:
If you have mains gas, a gas boiler is likely to be the cheapest heating option. Our average fuel prices as of April 2018 show gas to be the cheapest heating fuel per kWh, compared to oil, economy 7, LPG & house coal.
If you don't have a gas supply to your home, it might be worth considering a form of low carbon heating such as a heat pump or biomass. With the renewable heat incentive, these may be cheaper overall.
Alternatively, you may want to get a gas connection to your home. The company that owns & operates the gas network in your area may be able to help with the cost of getting a new connection, & it may even be fully funded.
You can contact Energy Networks Association for further information.
Most old gas & oil boilers that have a separate hot water cylinder to store hot water, rather than providing it directly from the boiler. When you replace your boiler you can buy a new regular boiler, & keep your hot water cylinder, or buy a combi boiler that doesn't need a cylinder.
A regular boiler is more efficient than a combi at producing hot water in the first place, but then some heat is lost from the hot water cylinder, so a combi boiler may be more efficient overall. Which is better for you, will depend on different things:
Your hot water usage - large families using lots of hot water are likely to be better off with a regular boiler, whereas smaller households using less may be better off with a combi boiler
Space in your home - combi boilers don't need hot water cylinders, & therefore require less space in your home
Compatibility with solar water heating - if you are thinking of installing solar water heating, it's worth noting that many combi boilers are not compatible with this heating system or cannot use it effectively.
For a list of registered installers, visit the Competent Persons Register, SNIPEF, or HHIC
For gas & LPG boilers, the installer must be Gas Safe Registered. For oil boilers we would recommend that you use an OFTEC registered installer. You can find registered installers on the Gas Safe Register & OFTEC.
It is always worth getting 3 quotes from different installers, & you may also want to check:
That they have a local office
They have been in business for several years; and
they have customer references you can review
Your registered installer will ensure that your system complies with current building regulations, & will make sure you get all the documentation to prove this. Keep those documents safe; you will need them when you sell the property.
Cost of replacing your boiler
England, Scotland & Wales
| | | | | | |
| --- | --- | --- | --- | --- | --- |
| Old Boiler Rating | Semi-Detached | Detached House | Detached Bungalow | Mid-Terrace House | Mid-Floor Flat |
| G ( < 70% ) | £200 | £305 | £155 | £175 | £95 |
| F ( 70 - 74% ) | £140 | £210 | £105 | £120 | £65 |
| E ( 74 - 78 % ) | £120 | £180 | £90 | £105 | £55 |
| D ( 78 - 82 %) | £120 | £180 | £90 | £105 | £55 |
The cost for replacing a boiler will vary, but straightforward gas boiler replacement plus thermostatic radiator valves will typically cost about £2300 excluding radiators.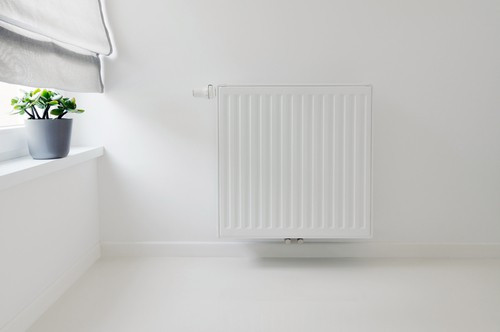 What to do to improve your central heating system?
Heating Controls - There is a wide range of heating controls available that will help your heating system work more efficiently & help keep your bills down.
Heat Recovery Devices & Systems - Some of the heat generated by your boiler escapes through the flue. Passive flue gas heat recovery systems capture some of this lost energy & use it to heat your water, making your heating system more efficient & saving you money. They are only available for combi boilers as they provide heat to the cold water supply that is feeding the hot water output. Some modelsinclude some heat storage, which increase the savings but usually also increases the installation cost. Some new boilers are made with flue gas heat recovery already incorporated, so there is no need to buy a separate heat recovery device.
Hot Water Cylinders - New hot water cylinders are factory insulated to help keep your hot water at the right temperature for longer. They play an important role in supplying you with readily available hot water, so it is important that they are fully insulated to prevent heat escaping.
If you have an old cylinder you could save around £20 per year by topping up the insulation to 80mm. Alternatively, if you are replacing your cylinder, you can save energy by making sure that the cylinder is no bigger than you need it.
Chemical Inhibitors - Corrosion deposits in an older central heating system can cause a substantial reduction in the effectiveness of the radiators, & the system as a whole. The build-up of scale in heating circuits & on boiler components can cause a reduction in efficiency too.
Using an effective chemical inhibitor can decrease the corrosion rate & prevent the build-up of sludge & scale, preventing deterioration & helping maintain efficiency.