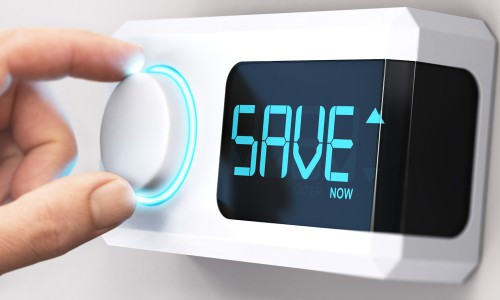 The average household spends over £1,200 a year on heating and powering their home. This makes energy one of the biggest costs for UK families, alongside council tax.
When budgets are squeezed, energy prices can really cause a pinch on your finances, even if you're on the cheapest tariff available, you can still reduce your gas and electricity by saving energy.
While switching energy may be the easiest way to save money on your energy costs, there are many other ways to keep costs down that you can do in your own home, which will save both money and the environment.
Most people use their energy in the evening between 6pm and 9pm - the peak being 8pm.
You can reduce your energy consumption by switching lightbulbs from halogen to LED, by switching off lights when you leave a room. There are many more ways to reduce your consumption, read about it here.
You could save even more money if you switch energy providers, depending who your supplier is, you could save as much as £250* by switching to a cheaper deal - and it requires very little effort on your part. You can take a look here to see how much you could save.
The average home - of four occupants sharing - now uses 13 electronic appliances - TVs, laptops, etc. - compared with just 4 in 1990, according to the Energy Consumption in the UK (ECUK) 2017 report. Despite owning more appliances, we still use roughly the same amount of energy as we did 2 decades ago. Even though our gadgets are much more efficient, there's still a lot you can do to reduce your energy consumption.
Here are some tips, tools and tactics that will help you save electricity and gas at home, alongside estimated figures from the Energy Saving Trust that illustrate potential savings.
1. Turn off any standby appliances - You can save electricity immediately by turning off gadgets at the plug. Games consoles, TVs and set-up boxes are the worst offenders - leaving these on can add some heat to the energy bills. Turning off appliances at the plus can save an average of £30 per year, but can average between £50 and £80 for those households with more appliances. Smart plug sockets - you can purchase these so you can turn the plugs off via your smart phone, or even schedule when you want them on and/or off.
2. Turn down your thermostat - using a smart thermostat can save you energy because you'll stop warming up rooms that you do not use.Smart thermostats learn how long it takes to heat a home and then turn the heating on at exactly the right time to bring it to bring it to temperature. These can also be controlled by your smart phone, so you no longer have to come back to a cold home - turning the thermostat down by 1 degree could save you up to £80 per year.
3. Buy efficient appliances - You're not going to save money by chucking out a perfectly good appliance and replacing it with a newer, more efficient model, but when you are ready to replace appliances, then the Energy Saving Trust think it's really worth investigating in one with a high energy-efficiency rating. An electric oven with the new A+ efficiency will use around 40% less energy that a B- rated oven. A modern, efficient dishwasher will typically cost you around £8 less per year to run compared to an older model. An A++++ fridge freezer will save around £190 in energy bills over its 10 year lifetime compared to an A+ model.
4. Install a new boiler - you can also save energy by upgrading an old boiler to a new A-rated condensing boiler that comes with a programmer, room thermostat and thermostatic radiator controls. Based on fuel prices in April 2017, a detached house upgrading from a G-rated boiler could save up to £320 a year.
5. Wash at a lower temperature - with the correct detergent you can wash your clothing at a lower temperature and save electricity, alothough you'll occasionally want to run a hotter wash to clean the machine. Washing at 30 degrees as opposed to 40 degrees it can be a third cheaper, meaning savings of around £52 per year.
6. Be smarter about water - wasting warm water adds to your energy bills significantly, because you're not only paying for the water, but also to heat it unnecessarily. You can save up to £25 per year by washing up in a bowl rather than a running tap. You can get hold of some water-saving freebies from your water provider. Buying a more efficient shower head can save you as much as £75 per year on your bills. If you fit a shower timer in your bathroom, you could £7 per person by cutting just one minute off every shower.
7. Double Glazing - it will not only insulate your home from the cold and help you to reduce your heating bills, but it'll help keep the noise out too. If your home is entirely single glazed, you can save as much as £160 a year by installing A-rated double glazing. However, smaller properties will see reduced savings.
8. Draught-proof your property - Most homes, especially older ones, lose heat through draughts. They can also stop a room feeling snug when it gets really cold, which makes it more tempting to turn up the thermostat. A quick and easy way to save energy is to use draught excluders for your doors. You can also buy simple draught-proofing kit from most DIY stores that you can easily fit yourself. Block cracks in the floors and skirting board, line your letter box and block an unused chimney to reduce your heating bills by up to £25 per year. If you don't have double glazing, you can buy plastic lining for your windows to save energy and keep more heat in.
9. Insulate the roof - you could save even more money if you insulate your roof and stop heat escaping from your house. It's worth considering employing someone to do this if you want to use your roof space, because this makes the process of the roof more complex. While insulating your loft can cost several hundreds of pounds, it can also take around £200 off your energy bills per year.
Consider a Smart Meter.
If you are conscious about how much energy you're using, you should consider installing a smart meter to accurately track your consumption.
Be Aware Of Expensive Bills
If you have made strives to save energy but you are struggling to pay your bill, you should contact your supplier to see if there is any help on offer. You should be able to negotiate a payment plan if your energy bills are becoming too much for your budget.
One viable option is to have a prepayment meter installed.That way, you can pay off your debt gradually, while paying for your current usage and avoiding sliding into further debt. But to note, prepayment meter tariffs are more expensive than standard / smart meter tariffs. Another way to save, would be to switch to a fixed tariff, as you could save up to £250 per year.